Having an online business is a great way to spend your free time. Most of us won't be able to earn decent money from our jobs so we would have to go and build a business online. And that's totally okay. I remember when I started with Instagram, I just dropped out of college and I only like $200 that I earned through promotions on Instagram, and I knew that life would get better and that I will learn how to make more money online. That's why today we will show you the best businesses to start with no money in 2019!
A lot of people say that making money online is hard, I've been there and I know why people think that. You will always try to look for an easy way instead of long-term safe way of doing things. Most of entrepreneurs say: Risk it all! It's not all about risking, let me tell you why. For example if you create a blog around business like i'm doing right now, and if you want to write about business and you like that niche, you will write it every day, you will never be lazy to do such thing because you love the process of writing and you also love that niche. It's all about the process and how to actually love the process.
Here are top 10 business ideas to start with no money in 2019:
Building an Online Brand
Freelance Agency
Podcasting
YouTube Cashcow Channel
Social Media Marketing Agency
Virtual Assistant
Graphic/Web Design Agency
Personal Coach/Trainer
Copywriter
eBay Dropshipping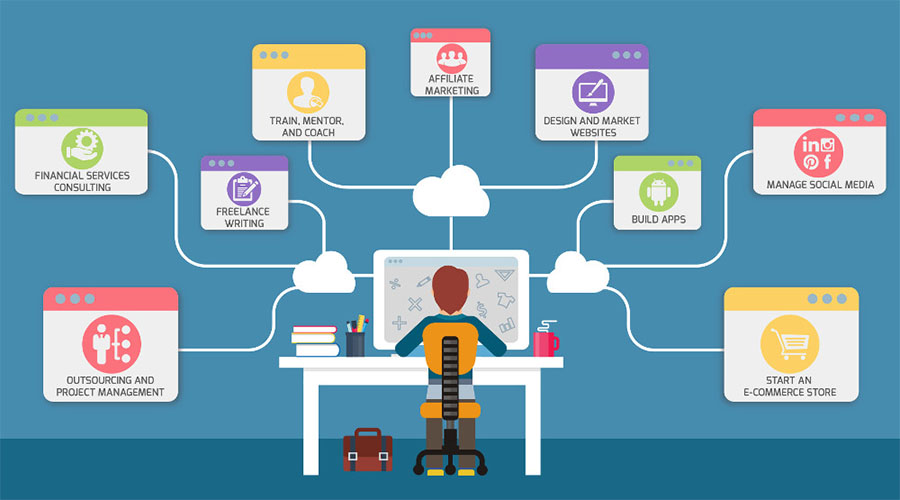 Building an online brand
When it comes to building an online brand or a personal brand online you need to have two things in mind. What do you want to do with your brand and how do you monetize your brand to bring you money. I've built my brand from my bedroom. It's really important when you start building a brand to pick a platform to work on.
Some platforms that work well with brands are:
Instagram
Facebook
LinkedIn
Twitter
YouTube
Blog
Podcast
Being on social media is important towards building a healthy brand overall. Most of us will go and try to rush when it comes to building a brand. We will go with all of the platforms, not focusing on one. That's a mistake most beginners make nowdays. First focus on one thing. For example Instagram and build up a good solid community over there and then start scaling to other platforms. You can scale to for example: blog, facebook or twitter and then later scale even more.
It's all about flexibility. You are not a media company at the start, so you can't expect to be all over the place. I think when we first think about building a brand, mastering one platform is the key. If you can master Instagram, you can build an incredible network of like minded people and individuals. You can build a great community of people and then scale to another medium or platform.
As we look at the chart of the best performing platform, we see that Facebook is the first then we have some apps that are used on a daily basis and then we have Instagram. I would definitely recommend if you want to build a solid brand and have a solid start, go with Instagram. Instagram has the organic reach and Facebook lost that years ago. On Facebook in order to get your brand visibility out there, you will need to spend money on advertising, on Instagram we still have organic reach which is amazing for anyone that wants to build a great community over there and start their brand.
Building a brand is hard, but it's free if you don't use advertising to get more people, you can use a lot of different strategies in order to grow on Instagram or any other platform and you can use that to your advantage. That's why this is one of the best businesses to start with no money.
Freelance Agency Business
Freelancing is a really popular way of earning money online and everyone knows how to freelance, but the thing is, freelancing can be hard when you can't keep up with all the clients and sometimes you will need to outsource it. When it comes to outsourcing a project, you will need to hire other freelancers who already know what they are doing and who you can trust.
Freelancing agency is nothing more than you as your own boss and other freelancers that work for you for a per client fee. So let's say you get a $500 client and you can outsource it to other freelancer for $250 or maybe less and he will do the job for you and you will be left with $250. Of course sometimes it's not worth it, but most of the times if you have a lot of clients like 10 clients and you can't manage them all, you will need to start outsourcing your projects.
Now that freelancing agency can revolve around a lot of things. You can have a graphic or web design agency you can have marketing agency or social media agency. You can have payments set to retainers or flat fee or however you want it. It's up to you how to structure your business plan and how to execute it. This is by far the easiest business model if you know what you are doing. It can be quick cash on the side with a couple of client or a long-term thing for a real business. This is by far most profitable business model and its one of those businesses you can start with no money.
Podcasting Business
I think this one is a really cool way to make money online. You can build a podcasting brand and interview other entrepreneurs or people that you would love to chat with. It's an incredible way of earning side income or even full time income. It's incredible how you can start something from your room and earn money from it. Podcasting is a really popular way of earning money and I think most of younger generations are using this to make it big in the world of podcasting.
How can you earn money from podcasting? That's a good question and first of all I would say podcasting is a good way to make a decent income but what's most important is the power of networking and connections in the podcasting world. If you can have a bigger network that would be amazing, that's why most of the younger people that do podcasts are doing them because of the established network that comes with podcasts.
You can earn money from sponsorships and sponsored audio commercials too, you can earn money through YouTube if you decide to create a podcast on YouTube and you can earn money with a promotions (if someone comes to you to promote their new product for a one time fee per promotion). If you truly love interviewing others this would be one of the businesses to start with no money at the start.
YouTube Cashcow Business
YouTube is a real winner when it comes down to building a business that will last you for a long time. It's hard at the beginning but as you go, you progress and you build up your audience, just like on any other platform. Creating content is what matters, and how to monetize content is another thing that matter. This system of creating youtube channels is the system that's pretty new on the platform, it's called Cashcow channels.
Esentially cashcow channel is a channel that is producing a lot of cashflow through YouTube ad revenue. Content that is on that kind of channel is basically a viral content that almost everyone is binge watching. For example when something is trending you can make a top 5 video on that trending topic or for example those top 5 and top 10 videos do really good. You can get a lot of views by just being on the platform and producing those top 5 videos that will give you more views.
Let me give you an example of the channels. For example, you can find that type of content on Film Focus YouTube channel where the channel is based around clickbait titles and also viral videos that are watched over 1m+ times.
Here is an example of a clickbait thumbnail with the title: "Pawn Stars Has Officially Ended After This Happened…" This is how you can clickbait people into thinking something happened and most of the fans of that series "Pawn Stars" thought that it's really ending when it's not. This video got 15m+ views. That kind of channels make around $30,000 or even more or less depends on the channels and most of the time the content is outsource to other people.
You can buy a channel that is already monetized and you can start producing videos for it and then you can outsource your videos, thumbnails, and editing for a monthly fee, and that way you can scale. Let's say your one channel is doing $10,000 per month and you can now scale and you pay $1,000 per month for outsourcing your content and thumbnails for that channel. The only thing you would be doing is sitting and watching money going into your bank account. Outsourcing is the major key here, and you can definitely create something awesome by outsourcing it and you won't be able to work all day so that's a plus for you.
Social Media Marketing Agency Business
Same as a freelancing agency there is a social media marketing agency which is also a great business model for starting entrepreneurs. First off when you are starting an agency keep in mind to have these things in place.
Script for getting clients
Payment processors
Website
Social Media
Established business (later down the line)
Consistency
Creating an agency is not an easy task, especially if you are a starting entrepreneur. When you start an agency like social media marketing agency keep in mind that you would have to know some skills that relate to that agency model. If it's a social media agency then focus on social media growth and social media management. Once you have that all established, go and try to get a few clients through cold emails or cold calls, have a script ready for that and try to be honest about your services and don't over promote them. When you call or email set up a date for a meeting about your services, that way it doesn't feel like selling anymore and it feels way comfortable and better.
Having a website is okay but you could also do it without a website. For example, if you are only a social media agency then you can have only social media, but again websites are also really important if you want to look more professional. Once you got paid for your service have a payment processor ready. Most of the agencies use PayPal and Stripe for collecting payments. Paypal for payments under $1000 and Stripe for bigger $1000 + payments. Once you set everything up it's only a matter of time when you will be making more than $5,000+ or even more with your agency. From there it's all about consistent work and getting more and more clients. Social media marketing is a really popular and profitable business to start on our list of businesses to start with no money.
Virtual Assistant Business
Most of the businesses need a virtual assistant while scaling their business. Virtual assistant plays a huge role in any business nowadays especially online. If you want to earn some money while not learning some new skills you can start with being a virtual assistant. Virtual assistants help businesses with fulfillment for their products, with content creation and PR for their social media, with web research, data entry, data collection, admin support, and any other VA type tasks.
Virtual assistants are basically a independent contractors that work for a set amount of time and usually work for couple hours per day (depends on the business and what the business owner wants) and they get paid $ per hour. How can you apply, and where can you find that type of jobs? Well look no further then Upwork or Fiverr. Upwork has a really good ratings and you can start there. Once you registered you can start researching those who need virtual assistant for their business.
Graphic/Web Design Agency Business
If you are already in graphic design/web design or development world, you could easily make an agency. We already discussed how to create an agency in a previous business model about the social media agency. You can start by freelancing. Then once you start growing as a freelancer you can actually make business and start as an agency.
There are a lot of services you can offer as an agency, especially as a graphic design/web design agency.
Build Websites for Clients
User Interface Web Designs
Creating Content for Social Media
Distributing Video/Audio Content
Designing Infographics
Doing Branding for Businesses
Creating Brochures/Advertisements
There is a lot of services you can create from the comfort of your home as an agency. Of course, once you have a lot of clients and once you can't keep up with all the client work, you can outsource it with Upwork or Fiverr contractors that will do the job for you. When you are looking for a contractor be sure to sign someone who is already been in the business of graphic/web design before so you know that he will do the job right. The only thing that you need to know when finding a good contractor is that you find someone who you can trust and who can help you even more for your business. If you love designing, this may be one of those businesses you can start today with almost no money to start with.
Personal Coach/Trainer Business
You've been training in the gym for past years? You have that sculpted body? Well maybe you can start with training others how to do the same. You can start a YouTube channel or social media page where you share tips on how to get six pack while eating an enjoyable diet. You can build an awesome audience and then try to develop your own product or diet that everyone can buy and change their physical appearance with it.
When it comes to personal coaching you have a lot of variations on coaching. Coaching can be mental coaching, physical coaching, you can coach others how to create a personal brand, you can coach others how to start a business, it's a very different field where you can do a lot of different things. So remember, if you have something you like to do, you can be a coach for that. You can have a social media audience and then you can leverage that audience by doing consultation calls for $100/hour. If you truly love helping other through coaching this may be one of the businesses to start if you don't have money.
Starting is easy, start on social media, build up your page and audience, and then start coaching and teaching people something. You can start today and you can be so much more than just a coach, you can guide people into their lives and businesses.
Copywriting Business
How can I start with Copywriting? Well what exactly is copywriting? A lot of people don't know what copywriting is. It's essentially words that sell. You as a copywriter need to write words that will tap into other peoples emotions and that will sell. If you ever saw a commerical or if you ever saw anything that's advertising or advertised online or on TV, that's a copywriter behind it.
Copywriting is a high paid and in demand skill right now in 2019. This particular skill will be in high demand in the future. A lot of people are searching for good copywriters, a lot of businesses too. It's a long learning process and you will have to actually see that for yourself if you want to be a copywriter. You can start researching about copywriting but you learn the best when you apply that skill and actually try to sell something online or in person. Again this is one of those businesses you can start with no money or upfront capital.
CHECK OUT THIS FREE COMPLETE GUIDE TO COPYWRITING AND HOW TO WRITE WORDS THAT SELL
eBay Dropshipping Business
Dropshipping is one of the most popular business models out there. You probably already know what that is but let's see again how that model is making money for you.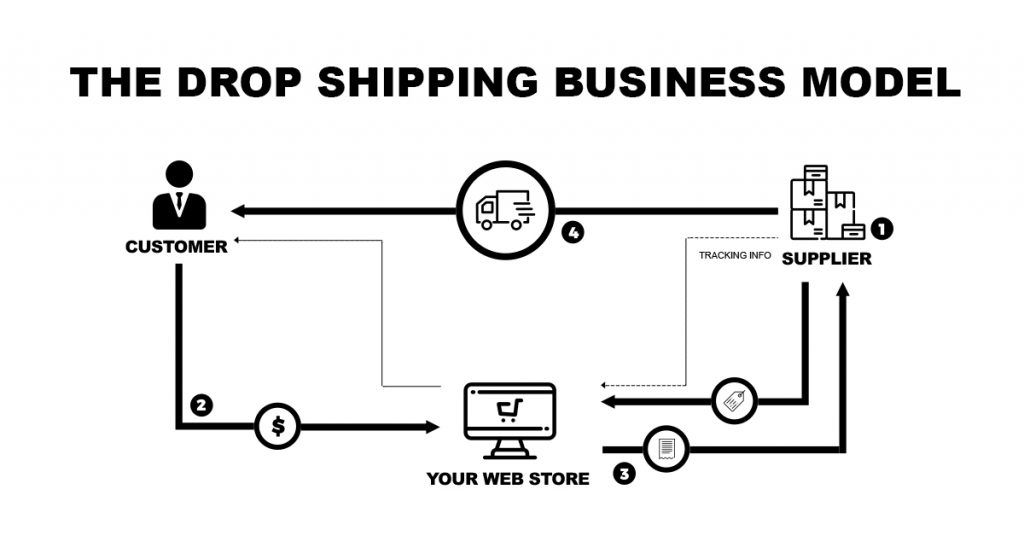 Basically, it all comes down to buying a product from your supplier. Having a front end (website or store) that will process the order. And then your supplier will ship that product to your customer that ordered the product from your website. It seems complicated and it seems very time consuming, but it's definitely not. Since we are talking about businesses that you can start with no money, this model can work without money too.
You can start your dropshipping journey on e-Bay. E-bay is an eCommerce platform that allows you to buy products from other websites like AliExpress or Alibaba. You can later resell those products on eBay. This is a really cool business model that you can start from the comfort of your home. You can actually start it with no upfront inventory that you need. You will display a product on eBay from AliExpress. Then whenever someone orders a product from your eBay store you will go and fulfill that product on AliExpress. That way you will earn money without actually buying and storing your products in your house.
This is a great business model and it's really free to almost no cost. You can start it even from your phone if you wish. But it's recommended that you start it from the computer. It's way easier and you can start selling much faster. People are already making a lot of money through eBay dropshipping, so can you. E-bay is definitely one of the businesses that you can start with no upfront capital or money.
CHECK OUT THIS FREE EBAY DROPSHIPPING COURSE FOR THAT TEACHES YOU EVERYTHING ABOUT DROPSHIPPING ON EBAY