How do you even earn money on Instagram?
Earning money on Instagram is real and can be a really good way to escape your 9 to 5 job and to actually work full-time as an influencer. A lot of people still don't believe that you can actually make a really good and decent income as an influencer, but still, a lot of influencers don't know how to leverage their following into monetary way.
Let's just see how people are making money on Instagram. Instagram is not like YouTube. A lot of people think Instagram is like YouTube and that you can earn through posting a lot and just being on the platform and getting engagement or views. Instagram is not paying a single cent to you, you are creating a following and later you are leveraging that following into money. How can you start doing business on Instagram? Well, first you will have to have a bigger following of course. You can actually earn money with 10,000 followers but you will have to have an audience that trusts you.
Trust is a very important aspect of selling online. It's better to have 10,000 followers who love your work and trust you because you gave them value through your posts than 100,000 bought or fake followers who don't trust you. Now that we know the fundamentals of earning money on Instagram we can start with the real business aspect of Instagram.
On Instagram, you have a lot of ways to create money with your page. Some of these ways are very popular and some are not very popular.
Promotions
Promotions are usually the first way to make money on Instagram and usually, people stop here. Advertising/promotions are usually people paying you to advertise their products. Now that advertising can happen through your story or feed. Usually, advertisers will ask for your information (engagement = likes, saves, comments and reach) on story and posts. Once they see you are a right fit for them, they will propose you a business deal or a promotion. They will PayPal you the money and you will promote them for 1 or 2 days, usually it's 1 day but some people will buy shoutouts in bulk from you which means if your shoutout for the feed post is $10 they can buy 10 shoutouts and you will get $100 for that transaction and advertising.
Consultations or 1-on-1 Coaching Calls
Usually, people will stop searching for another stream of income after promotions, but there is much more room for more money on Instagram and that is through "Coaching Calls" and "Consultations". If you are in online business or making money online niche the best way for you to earn money from consultations is to create consultations around your business or around your brand.
Now what that means is that you can teach others how to make a personal brand or an online brand on Instagram and how to grow it if you are already growing your page yourself. You can charge this calls hourly. What I do is basically I charge $120 per hour for an Instagram Growth coaching call. I can charge that much because I already know all the ins and outs of Instagram and how to actually build a profitable brand on the platform.
Leverage Your Brand and Create An Agency
Once you reached 100,000 people on Instagram you will be considered as an influencer and more you will be considered as someone who knows how to manage and actually grow an Instagram page. Once you have these skills, you can build a social media marketing agency with your following and actually leverage your following for creating an agency. This is a very good business model that you can use to earn more money.
I know some influencers in my niche are making $1,000 per client per month by just managing and growing their social media pages and brands. You could potentially have 5 clients on your own which is $5,000 per month or you could even have 10 clients and scale your agency to even more clients by outsourcing your clients to other people who know how to grow Instagram pages and brands.
Affiliate Marketing
Once you have a following that you can monetize (Recommended: 50,000 – 100,000 followers) you can start making money. One way people make money is Affiliate Marketing. This model is actually a really simple business model. You promote other people's products in exchange for a commission. So for each product that you sell, you will get a commission for it. Some people are selling amazon ebooks for $50 and if you go and promote it, you will earn a % of the sale, it could be 5% it could be even more, but in most cases its 70% of the product sold or sometimes even 30%, it depends how much the product costs.
You can promote this products through your stories or you can create a Facebook advertising campaign with your custom audience and target your followers because if you are for e.g. in a beauty niche and you want to promote a beauty product which is logical (don't promote a pet product for a beauty niche, it's a common sense) you can promote it and target your followers and earn a % of the sale.
Blogging
Another way of making more money is by creating articles about something you love. For example, I'm currently writing an article about business on Instagram and how much money you can actually earn on Instagram. This way I can monetize my blog two ways. One way would be through promoting affiliated programs or courses and second way would be to actually have ads on my website or a blog through Google Adsense. Blogging is much more than just writing what you love, first, you will need to do a lot of research on the keywords and what content actually works. How is this connected with an Instagram page? Well, you can drive traffic from your Instagram page to your blog and you can also talk even more on your blog about your niche. This is an amazing way of monetizing your Instagram through a blog.
Dropshipping and E-Commerce
Yes, you've heard it right. You can earn money on Instagram with e-commerce and dropshipping, and I'm talking about real money. Building a solid brand and later creating that brand into something even more like a Shopify store or a WordPress Woocommerce store can be extremely beneficial for your brand and also for your brand credibility. After you have a bigger audience on your Instagram you can start directing that traffic to your branded clothing or merch.
Listen to what your customers or audience wants and that way you can make a lot of money by actually listening to your followers. Creating a store with your t-shirts and maybe even some wristbands with your logo and everything can make you a lot of money, but first, you will need a marketing plan and also you can create Facebook ads campaigns for by targeting your followers and look alike audience's for your store.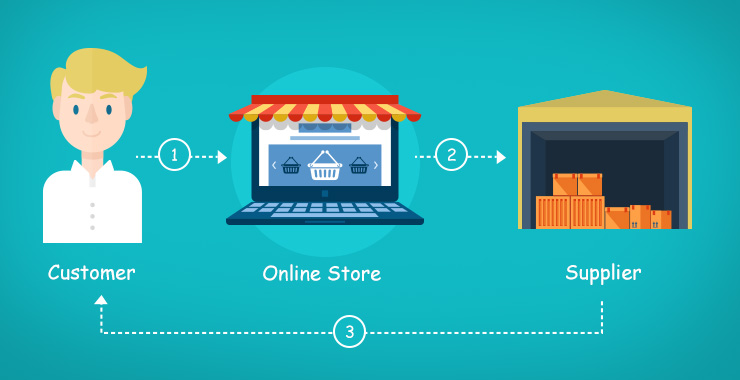 For this kind of business, you will also need print on demand websites/platforms for your website and merch. Some of the most popular ones are Printful, Printify, and RedBubble.
Digital Products
The power of a real Instagram brand is when you can sell digital products. Trust me, digital products are really profitable especially ebooks about Instagram growth or about investing or any other niche really. It's about creating something valuable for free and selling that to your audience. For example, I sold an ebook on my page @drivetowardsuccess for $10 and the ebook was about Instagram growth and my journey on Instagram as well. This was a really good deal for my audience because it's a cheap product that they can learn something from it.
You can do the same with the courses. Digital courses are very big in this digital world. If you can make a course that's profitable and valuable in information you can sell a lot of courses. For example, you can sell a course for $5 per month with your 100,000 followers and let's say around 1000 followers buy that, that's $5,000 per month, that's crazy but it's really real.
You can make that kind of money in just one month really quickly if you know what you are doing, that's why marketing is the second thing you need to do. You need to make sure that your marketing is on point. What you can do is you could sell a course and also give a bonus free ebook with that course or you could have a bonus 1-on-1 coaching call as a bonus if someone buys your course.
For example, this is my ebook that I was working on couple of weeks. This is what I sold for $10 and I can honestly said that I'm really satisfied with selling that ebook. You can do the same with the course or same thing in any other niche.
Host Seminars and Live Events
We are only touching the bare surface of how to make money and how much money you can actually make with Instagram. When you have an audience on one platform and that audience is really solid one, you can build an incredible business.
Another way of making money is by hosting seminars and live events in the city near you. Not a lot of people are doing those because there is public speaking evolved in the job. When you have something to offer, people will come, pay and listen, for example, if you are in a business niche you can talk about how you succeeded on Instagram. I know some bigger pages are doing this in their city areas and they are making good money with it.
The way you can do that is by renting Airbnb space somewhere in your town and by creating an event online and telling your followers where they can go and how much it costs. Keep in mind how much room you have and how many people will actually come to the event and also have a fair price but also a price that they can't deny.
It all comes down to value you can provide to other people, it's just all about that, and if you could provide anything that you know to other people you could create something like live event. Don't think you are not capable of doing this if you already posses a skill like growing an Instagram page or a brand. A lot of people want to learn how to do that, and you could be the one who would teach others just that.
VIP and Private Groups
As I said there is a lot of ways to make more money on Instagram in 2019. This way is a really special way of interacting with your followers.
You can create a group (private group) with VIP members and you can charge it either one-time fee for like $50 or you can treat it like a membership ($7 per month). What you can do with that group is you can create questions and answers kind of group.
People will ask you questions and you will answer all the questions, also you will provide more information about what they want to know, again it depends about your niche, if it's a business niche which is a niche I know most about then people will probably need some help with branding, online business, how to make money online, investing etc. You can provide them with solutions to their problems in almost any niche.
How would I go about it? Well I would build a group on Telegram, Whatsapp or Instagram and I would make a landing page for that group where you would present what the group is all about. At the end of the page you would have a button for the purchase or membership and then people who bought access to the group would be directed to the group and added into the group. This is a very good way of making recurring income over time.
Freelance Graphic Design
When you reach the point of 10,000 followers or more and if you are in a specific niche where you design your own posts in tools like Adobe Photoshop or Canva you can start getting clients and design posts for them. This is how I first started and I'm still doing the same thing for some clients. I basically charge them up to $1000 per month and I manage the content and all.
This is also what I call an agency business model, but in this model, you just do posts for them. For example, I started my brand @drivetowardsuccess almost 1 year ago, I built it up to almost now 100,000 followers and people started coming up to me for designing their posts and all, and at first, I didn't believe that this is actually happening. That's how I started charging up to $700 per month for just pure content and posts.
I was making around 1 – 7 posts per day for my clients and that way I created a solid income for myself, I was getting around $1,500 per month, sometimes it was less, sometimes it was more, it all depends about the clients and if they stay long enough with you.
For example, if you are in the beauty niche you can also provide maybe beauty tips or maybe beauty videos and posts for other beauty influencers in your niche. The ways you can make money are limitless from creating your own agency and your own business around your Instagram to consulting and freelancing with your account.
Getting Clients Through Instagram
I will also show you how to acquire clients right now. What I did is I already knew who I was going to target potentially. I was going to target podcasters, people who make their own content but they have a business to take care of, people who are in my niche, people who make their own content, youtubers, creators, etc. First what I did is I went to Instagram and started researching that kind of people, after that, I messaged them a message that was something like this:
That's how you can acquire new clients and customers every other day. I sent around 100 messages per week probably, I worked a lot. It's a really hard job if you don't know what you do, but it's definitely worth it if you don't know how to monetize any other way.
Sponsorships and Brand Deals
Did you know Kendal Jenner made $100,000 for just one post. Did you know that Kylie Jenner made $1,000,000 for one post? This are some crazy statistics and numbers. Let's face it, you are not Kylie or Kendall, but you could make a brand and actually get sponsorship deals and brand deals very easily.
I got sponsorship deal once, but it was really me promoting their product. I was promoting a keyboard and they actually sent me a keyboard and I was really hyped about it and all, and yeah it was good, but I would recommend promoting something you stand by, something that you believe in and that will go a long way and you will earn money for the long term.
How much money can you actually make with this? It again depends about your audience size, you could get $1000 per post or even more if you have 100,000 followers or more.
This is a very good money making way if you use it good and actually promote something that you believe in and that will help your audience. For e.g. you can't promote skin care products if you are in a business or finance niche, that type of niche is looking for a way of making money and not treating their skin nice, it's funny but it's true.
Focus on what you audience wants and you will get the most of a brand deal or sponsorship. You must be wondering how is this different from promotions or story shoutouts? Well this is actually a brand sponsoring you not just a simple story shoutout, and you can get paid some real money for just one post.
Networking With Others
You must be wondering how networking with others can help you make money? It can, trust me. I've been networking with like minded individuals a lot lately in my niche (Business and Investing niche) and you can meet some really resourceful people that can help you make more money.
I learned that a network is actually net-worth. How you approach and treat people is everything and if you can really network with some valuable individuals and actually bring value to the table, you could potentially make a deal with them or you could be a business partner with them, and I'm not talking just networking because of money, network because that will help you in the business world. Once you have friends that you could trust, people that learn from you and you learn from them that's all you ever need.
You need people that you could learn from, sometimes you will network with people that know more than you and that's actually very good, you will learn something new through knowing them. It's all about how to provide value and how to actually bring value to other people and to do that you will need to start taking action and messaging people you admire and asking them if you could do something for free for them. This isn't really a quick way to make money, but its a long-term thinking of making money.
Start Your Own Podcast
It's already evident that people are making money from podcasts, not just money but also having a sponsors, brands and also networking with others. This topic is actually connected with networking as well. You network with individuals and you interview them, it's actually funny because a lot of people think podcasting is not a good way of making money, which is not true. You get to spend time with good people and also you get paid for it.
Now there is a couple of ways you could get paid with podcasting. You could create a YouTube channel and grow it with your podcasting content. It will take a while but it will definitely be worth it in the long run.
You could also earn from sponsorships on your podcast, a lot of podcasts promote through their medium. I'm also big on podcasting, I'm currently making my podcast and also trying to go into that realm, I think there is a lot you can also learn and not just make money from it, but if you want to make money this is also a good way to go about it.
Some of the best platforms to create a podcast on would be:
AnchorFM – Best to record on your mobile and publish from your phone.
YouTube – Best way to monetize your brand and podcast longterm.
SoundCloud – Easy to upload and publish your podcast
This are some of the most affordable podcasting platform, actually these are the most affordable podcasting platforms because you can upload on them for totally free, which is awesome. After you establish an audience on your page on Instagram, you could start a podcast and start earning from that.
Membership platform
This one is very interesting. Once you have an established brand (100k+ followers) you can start making your brand a real valuable business. A lot of the times membership could be a good way of making more money and I'm talking a lot more money. You could make a platform like Mentorbox. They are a platform that distributes free video lessons from the books, so it's basically a book but just in video format and shortened.
This is a great idea. You can do the research on the market and how to actually market your product but before that creating a service is a good way to start. For example creating an affordable business learning service would be an amazing idea. You could do that for $10 per month fee or maybe even less. You can teach people how to grow on Instagram or how to build an ecommerce website or how to scale your business, you could do anything you want honestly. It's all about your imagination and how to build your business.
Memberships are very good business models because you actually get paid monthly and if you have an audience to leverage that, you could be earning a lot of money in a short span of time. Of course, you got to build a following, everything comes down to your following and how to actually apply that following to make money for you.
You got to think more about the product and how to help your audience than just getting the product out there. This product must be valuable and it must teach something so you can earn money.
YouTube Channel and Personal Brand
You have a following, okay great, now you can start a YouTube channel. Since Instagram is not paying you, you can drive that traffic to your personal brand on YouTube. This is another great way of monetizing your website and making money with it. YouTube is a big platform and once you make it big on YouTube with a little bit of consistency, you just got yourself another stream of income.
It's crazy but it's so true. People who follow your Instagram page don't get to see behind the scenes or anything more than just your posts, that's why YouTube is a game changer, people want to see your face more. We as humans we need to trust someone, we can't trust a brand, but we can trust a personal brand because there is a person behind it. That's what's most important.
Once you established a brand on YouTube too you can scale it a lot with digital products, memberships, affiliate marketing and you could easily make $20,000 per month from just this single source.
YouTube is not a game. Once you stay consistent and stick to your schedule, it could be 3 times per week or 1 time per week or daily, you will start growing, of course nothing will happen in first few months of you starting unless you have an audience but you can also start growing without an audience for free or with spending money on advertising which I highly recommend on the start if you have more money to invest in.
Retargeting With Facebook Ads
With Facebook you can do all sorts of advertising. One advertising that I like is called retargeting. You can target all the people who liked your page or engaged on your content in the last 365 days, basically all people who engaged in the last year and you can target them while advertising your digital product.
There is a lot of ways to do this, but this is one that I know the best. Basically when you already have a product that you want to promote you can promote it through Facebook ads and of course since you are promoting to the people you know, you will get a lot of leads and sales.
Facebook advertising is probably the best way of advertising for everything. You can advertise your page for more followers, maybe you have a product, you can sell it through the ads and also you can get page likes through Facebook ads, it's very simple to set an ad but you got to test what works and what doesn't, that's why most people don't use Facebook ads because you need to invest some money in order to start, but only professional advertisers and marketers use this and I think a lot more people need to consider this as a main advertising platform.
Scale to Other Social Media Platforms
One of the best thing you can do for your business is scaling to other social media platforms, and I'm not talking just scaling to YouTube or Twitter. I'm talking scaling big, create pages on Twitter, Facebook, Instagram, YouTube and Linkedin and connect with people and engage with people. If you are doing this alone I would suggest you to hire some freelancer that will help you with all the social media platforms because let's face it it's a lot of work to post on all platforms.
Right now what I'm doing is I'm focusing on podcasts and also on my blog where I'm writing articles like this. What I'm also doing is I grow my social media pages. I grow Facebook, Twitter, Instagram (my main platform), YouTube and Linkedin.
That's how you scale in business. You got to be everywhere if you want to maximize your earning potential. This is exactly how big businesses or magazines started. If you want to build a brand, starting small is good, but also scaling is very important, that's how you grow and that's how you start focusing on the longevity of your company and brand. It's all about the long-term, not the short-term.
One thing that can also help your brand as far as more recognition goes is to actually work on a podcast. You can start interviewing or documenting your journey through the audio. This is how I'm currently doing and how I'm going to also earn some money on the side through sponsorships and brand deals.
Flipping Your Instagram Page
I know people who are making $5,000 and some who are making as far as $20,000 per Instagram account/page. You must be wondering how? Well they are growing pages and then flipping them for money.
You can do that by actually taking one page branding it and then growing it over time. You can grow organically or you can grow with Facebook advertising (Which I highly suggest if you want to see more organic growth through paid traffic). Once you have reached a 10,000, 50,000+ or even more followers some people will start to message you about your page and if you can sell it.
I had a few people asking me about my page and if I can sell it, be sure when selling your page that you actually price your page through value of the page. It can go as high as $5,000+ for over 100,000 followers or even more.
This is a real business of flipping. You can use real estate as an example, you buy used house, you renovate it and then you flip it. In this case the house is an Instagram page but you don't buy it or you buy it (however you want to start) and you grow it. Sometimes what you can do is you can buy an account with 10,000 followers for lets say $300 and you can sell it later for even more.
What happens is after 10,000 followers your organic reach is at the max, you are growing +300 or even +1000 followers on some days and that can result in a really high growth in a short amount of time, and then you could flip that page for $5,000 or $6,000 depending on your page quality and also engagement quality of your page.
How Much Money Can You Really Make?
We all know by now that making money online especially on Instagram is easier when you get the followers and build an audience. But how much money can we really make? Can we really make an income from Instagram? Well technically the answer would be yes, if you put in the work of course.
I listed every possible money making way on Instagram and I know some people that are making $5,000 per month and I know some people who are making as far as $20,000 per month with couple of these strategies that I shared in this blog article. I also know people are living basically free life on their own, traveling the world and working what they like. Instagram is not about pages anymore, it's about building a solid brands and then monetizing them.
How am I currently making money? I leveraged my brand in order to create an agency around it. I created an agency that's making me over $1,000 per month, and right now I'm happy with it, but It's time to scale, I just started my agency a month ago and I'm only 20 so I'm doing pretty good I would say.
Instagram is not a joke. You can make a lot of money and most of it isn't through Instagram but it is with a help of Instagram and your audience, so technically you can make the same amount of money on any other platform if you have an audience, but the thing that is most important is that you have to build something for the long-term and not something for the short-term that's why I created this blog article to show you what's possible and how to start.